Tennis seems to be the perfect exercise to help PD – the hand-eye coordination, sudden quick movements, the thinking process used to execute a shot.  Jan Jackson
Tennis has been one of my passions since I was a child, playing with wooden tennis rackets that we had to store in a wooden frame to keep them from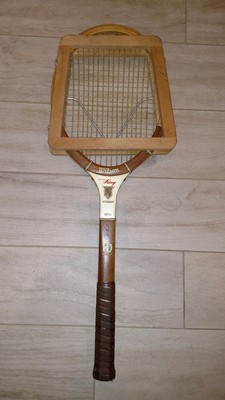 warping. My earliest tennis idol was Billy Jean King and I even had a Billy Jean King tennis racket. When Mr Twitchy and I moved to Los Angeles, playing tennis was an easy way to meet new people.
Eventually the wooden tennis racket gave way to the new lighter graphite rackets in the 80's and my tennis game improved. My tennis idols and my rackets have changed over the years and I have been fortunate to have attended 3 of the 4 Tennis Open tournaments in the last 10 years. I am hoping that I will be able to get to the fourth, the French Open, in the next few years.
When we moved to a new house and new school for our kids, tennis was again the intro to new friends. In fact, I have been playing in a regular game for over 25 years with three other women whom I met at the elementary school Tennis Tournament Fundraiser so long ago. They are my friends, my confidants.
After my tremor started 10 years ago, they were the first to know about it. When it was difficult to talk about my Parkinsons diagnosis, they were the ones who were there for me, refusing to let me take the easy way out and quit playing tennis. When I told one doctor about them, his advice was to "keep those friends".  That was the easiest doctor's order I have ever followed. Tennis has literally kept me going through the worst of times with PD. It hasn't always been easy. My stamina and balance vary from week to week, my feet don't always move as well as they should and I frequently lose my grip on my racket for no reason. I have often thought about finding a way to glue my racket to my hand so that I can't lose my grip.
So I was not surprised to see a website about Tennis and PD posted by PD blogger, Gary Sharpe, about the benefits of tennis for Parkinson's from a program titled  Educational Tennis For Parkinson.  The only problem is that the article is in Italian!  Fortunately, Google translate came to the rescue.  From their website comes this description of their program:
Tennis by many scholars is considered the most complete sport. The Educational Tennis Program for Parkinson ® program specifically designed and created for those suffering from Parkinson's disease in the initial and intermediate phase, tends to help them to carry out a sport activity whose main objectives are: to develop cognitive skills, to stimulate the motility of everything the body, develop the coordination, stimulate the respiratory system, stimulate concentration, develop automatisms, develop the metabolic function, favor the reappropriation of a serene relationship with one's physicality, enhancing one's own potentiality, support for an improvement in the quality of life . (please excuse grammatical errors, this is directly from the Google translation)
Whew!  That is quite an ambitious statement!  I love the "serene relationship" part.  Overall, I agree with them totally.  Tennis is a great total workout for you, requiring hand-eye coordination (not always easy with PD), quick movements and lots of concentration.
Sharpe also posted an article by Jan Jackson, a woman with PD who plays 🎾, this time in English.   She put into words exactly what it has felt like for me playing tennis with PD.  She increased the amount of time she plays tennis because of PD.  On the other hand, I had decreased my playing to once a week because I found that there was little extra time for tennis in addition to my regular daily exercise programs (yoga, boxing, etc.)  However, I have recently added a second day of tennis, with a "Live Ball"* clinic at the club we belong to, that has really helped improve my game with PD.  I am hoping to be able to add another day of tennis to my workout schedule sometime soon.
My hope is that I will continue to play tennis with my friends, Gayle, Martha and Lenore,  for many more years to come.  Thank you for being there for me all these years.
*Live Ball is a fun doubles king/queen of the courts-type game played where tennis balls are fed by a tennis pro to start points instead of serves.